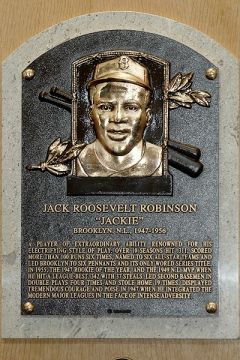 Jackie Robinson's new plaque at the Hall of Fame was unveiled today. (Click to enlarge the image on the right.) Jack O'Connell of MLB.com has a report.
"We have adjusted plaques over the years that were found to have factual errors, but very rarely do we change the plaque for subjective reasons," Hall of Fame Chairman Jane Forbes Clark said. "We feel very strongly that rewriting Jackie Robinson's plaque is extremely important."
The new plaque denotes the importance of the valor Robinson displayed in opening opportunities in the Major Leagues for minorities as well as detailing the highlights of his 10-season career, which had been the sole subject of the previous plaque.
"Now the totality of Jackie's impact will be encapsulated on his plaque," Clark said. "The plaque is a career snapshot, and Jackie's snapshot was not complete without noting his cultural impact on our game. This is the right moment to place on Jackie's plaque his contribution to history not only as a Hall of Fame player but also as a civil rights pioneer." ...
"He wanted to be judged by the same standards that all the other Hall of Famers had been," Rachel Robinson said. "He would understand now that we need to go beyond that toward social change, and he would want to be a part of that and be recognized. I don't think he would object to that. He would understand this is an evolution."
* * *
Eric Enders had a healthy critique of Ned Colletti in comment 144 of the last thread.
* * *