The real story tonight is the Dodgers' Game 3 National League Championship Series victory, but I do have to get this out of the way. I don't really want to hear Shane Victorino complaining that Hiroki Kuroda threw at his head.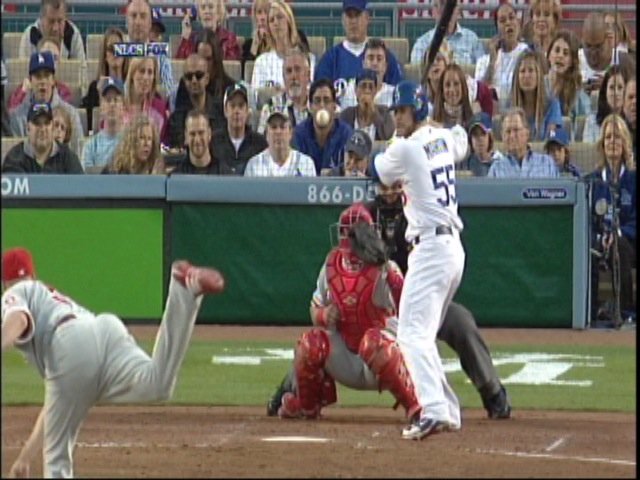 Despite being a card-carrying member of baseball's Pacifist Society, even I felt the Dodgers had to show some kind of retaliation in the third inning tonight. And the picture to the right is why.
The Dodgers had been pitched tough inside all series, but that's no sin. Among other things, Manny Ramirez had a Brett Myers pitch go behind him - but supposedly, that slipped. Okay. Then tonight, Russell Martin got hit by a Jamie Moyer pitch in the first inning, but it was a sub-80s changeup that loaded the bases. Even though a potential beanball war had been a significant topic of discussion Friday night and Saturday, Moyer is absolved.
But with this pitch that you can see to your right, enough was enough. This one was heading for Martin's chin if not his eyes, and this was the one that moved the needle beyond intimidation into something worse. This was the one that passed the limit of making excuses, to the point where it seemed clear to everyone that the Phillies did not care whether a Dodger got hurt. Paramount for the Dodgers was to win the game on the field. But until the Dodgers sent a Phillie spinning to the dirt, nothing was going to stop Philadelphia from continuing to make the Dodgers duck and cover.
I am not endorsing hitting people with pitches. I am not endorsing throwing at someone's head. But Victorino and the Phillies had no right to complain. It started with them. They don't get to throw at Martin's face and then be offended.
I'm hoping that now, it's over. While the Dodger Stadium crowd (already energized by the five-run first-inning and 6-1 lead in a critical Game 3) seemed eager to see the benches empty, I was petrified. I don't want to see players from either team ejected. I want to see baseball.
For the most part, the umpires kept the situation under control. But something occurred to me for the first time tonight as I watched those six black-suited men try to keep about 70 people at bay. In theory, major league baseball doesn't want a fight to break out. Assuming that's the case, should the sport allow stadium security to step in and help keep the combatants apart?
On first glance, this might really seem excessive. It's just a game. But I'm not talking about having bobbies with billy clubs raising cain. I'm just talking about having more people to separate the two teams, because if the fight doesn't break out in the first few seconds, it won't unless it's given the opportunity to. Tonight, there were almost too many pockets of tension for the umpires to police.
At some point, if the chaos got really out of control - you know, chairs thrown, knives drawn, Jets and Sharks – security probably would get involved. I'm just wondering about whether security should be preventative instead of reactive. (Unless, of course, baseball really doesn't mind that much if some punches get thrown.) I just would have hated to have seen ejections and suspensions - or worse, injuries - that could have been prevented. It seems awkward, maybe even untenable, especially because fighting isn't a rampant issue in baseball like it is in hockey, but I'm wondering if it would be better for the sport to have security help the umpires keep the peace.
But enough about the extracurriculars - let's talk about the Dodgers' win. After Rafael Furcal made a nice tag to help nab Chase Utley on a somewhat surprising steal attempt with Ryan Howard at bat in the top of the first inning, Furcal helped the Dodgers jump on an ineffective Jamie Moyer with a leadoff single. Andre Ethier and Manny Ramirez also singled to give the Dodgers an early lead for the third straight game, and one Nomar Garciaparra strikeout after Martin's first hit-by-pitch, Casey Blake looped one to right to score a second run.
With two out, Matt Kemp got the count to 3-0 before striking out on a pitch that was probably too close to take, but then Blake DeWitt, after being down 0-2, drove a no-doubter bases-loaded triple to right - and suddenly, the mojo of the Cubs series had returned. Every Dodger starting position player reached base, with Furcal answering the Phillies' second-inning run with a home run, his first since May.
Kuroda might have been even better tonight than he was a week ago in the NLDS clincher. He retired 13 consecutive batters from the third inning through the end of the sixth. But just like last week, he couldn't get out of the seventh. It was frustrating, because after giving up a leadoff double to Utley, Howard reached on what appeared to be a catchable fly ball that Ethier didn't get a good read on and shied away from, and then Burrell looped a weak 140-footer to cut the Dodger lead to five and bring Joe Torre out of the dugout with two runners on.
Though Cory Wade once again put out the fire, he ended up throwing 33 pitches tonight, which limits what he can bring in relief of Derek Lowe in Game 4 Monday. The Dodgers will have Hong-Chih Kuo, Clayton Kershaw, Greg Maddux and Joe Beimel to help get the game from Lowe to Broxton, so that might be sufficient, but it was just such a shame that two near-outs prevented Kuroda from cruising past the seventh.
With the home team 11-0 in Phillies-Dodgers games this year, not only Game 4 but Game 5 on Wednesday would seem to remain critical for the Dodgers. But neither game is a gimme. Though Lowe is a decent bet on three days' rest, it's hard to know what he'll bring - and his opponent, Joe Blanton, will have had a week off since pitching six innings of one-run, seven-strikeout ball in the Phillies' NLDS clincher over Milwaukee. Meanwhile, Game 5 offers a brilliant matchup between Cole Hamels and Chad Billingsley that, no matter how much one esteems Billingsley or believes in his ability to recover from his Game 2 debacle, can't remotely be painted as a lock for Los Angeles.
On the other hand, if the Dodgers manage to get the series back to Philly, things could turn in their favor. Kuroda vs. Myers in Game 6? Lowe vs. Moyer (would it still be Moyer?) in Game 7? The road is still the road, and it will be all hands on deck in Game 7 if it gets that far. However, even if the Dodgers don't sweep the Los Angeles games, I wouldn't count them out.
But the Dodgers certainly need to win at least one of their next two, and their fans will feel heeps better if a win somehow comes Monday. Things are gonna be even more intense at 5:22 p.m. tomorrow than they were today. Get your rest ...