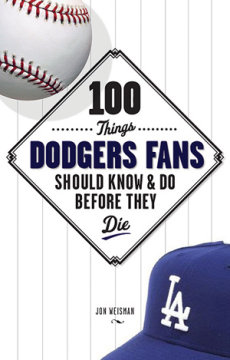 I'm pleased to announce that my book, 100 Things Dodgers Fans Should Know & Do Before They Die, is on its way to the printers and is on schedule for publication in April.
I really think you're going to like it. Throughout last year, I applied the Dodger Thoughts approach of research and reflection (and joy!) to every aspect of Dodger history and the Dodger experience. The result was something that I think will be a lifelong companion to what you've seen here online. The goal was to make the book meaningful to old and new fans alike, and I was constantly finding new insights into Dodger people and events you'd think you knew inside and out.
Former Dodger owner Peter O'Malley was kind enough to write the foreword for the book, and also gave permission for me to use numerous old photographs, many of which have not been published in decades, if ever. Some of them just made me shake my head with delight.
The readers of this site were never far from my mind when I wrote the book. You are among the most dedicated Dodger fans in the world, and I aimed to satisfy. I'm hoping you'll think I did.
Anyway, here are some early ordering tips:
1) If you would like to attend a Los Angeles book release gathering in late April, don't order the book yet. You can buy the book directly there.
2) If you can't make the gathering and would like to pre-order the book online, do so directly from the Dodger Thoughts link on the left.
3) Eventually, the book will be in bookstores and you can buy it in person, though I don't know right now that you'll find it many places outside of Southern California and New York.
You won't want to miss such chapters as "The Sweetheart From '88" or "The Head-Spinning, Allegiance-Shifting, Authority-Defying Leo Durocher." Get excited for your copy (and your friends' and family's copies) of 100 Things Dodgers Fans Should Know & Do Before They Die.