When it comes to interviewing actors, some people want them to stick to talking about acting. I've given an actor license to do much more, but hold your fire - because it's too much fun to have an actor who wants to talk baseball - really talk baseball.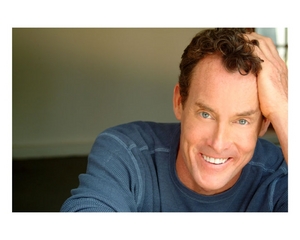 A couple of years ago, I got the assignment from my editor at Variety to do a feature on John C. McGinley, the artist currently known as reluctant mentor and anger-mismanagement expert Dr. Perry Cox on the NBC comedy Scrubs. You're just happy to share the field with a quality actor in a quality show, but little did I expect the conversation to begin like this:
Weisman: "How're you doing this morning?"
McGinley: "Well, the Yankees won last night, so I'm doing great."
And so my entertainment interview with McGinley, who has played roles ranging from Sgt. Red O'Neill in Platoon to Bob Slydell in Office Space, began with 10 minutes of straight shooting about baseball, before we finally forced ourselves to talk about his Emmy-worthy performance on Scrubs.
As much as anything else that day, what I learned is that McGinley will talk baseball anytime, anywhere. So during his vacation break from shooting the fifth season of Scrubs (which returns to air Tuesday with back-to-back episodes starting at 9 p.m.), it took no convincing to get him to not talk shop, and instead talk sports.
The first words out of his mouth after the initial exchange of hellos? "I feel really, really good about (Nomar) Garciaparra," referring to the Dodgers' recent free-agent singing.
"I like that signing. I don't love it; I like it," McGinley added. "I like it because they didn't have to give anything away for it. … I think he's a quality player, and I think he's going to thrive out there."
While acknowledging that Garciaparra might not physically be the player he once was, he was surprised at the caterwauling out of Boston about Garciaparra's clubhouse personality.
"Everyone's talking about he's such a cancer," McGinley said. "Give me a cancer who wins three batting titles and hits .360."
Having had a residence in Southern California for years now, McGinley has grown familiar with the Dodgers. But it would be misleading to go much further in that direction, when his first baseball love remains the Yankees. McGinley grew up in Short Hills, New Jersey, and his fondest baseball memories reside at Yankee Stadium.
"Ron Blomberg becoming the first DH," McGinley said of his earliest baseball recollections, "and then for the Mets, when the Mets were playing at Yankee Stadium, I saw Willie Mays hit a home run. I couldn't believe my eyes. It's not that early, but I remember it vividly.
"Other than that, I just remember those Reggie Jackson teams winning the World Series," McGinley continued. "Those guys, they just rocked me. I just lived and died with the Yankees."
Asked to name his single favorite baseball memory, the first thing that came to mind was Yankee reliever Rich "Goose" Gossage.
"Every time he came in, he looked like was going to kill someone," McGinley said. "It just looked like he was going to kill someone."
And then, in the mid-1980s, McGinley got to see something Dodger fans didn't - Darryl Strawberry at the height of his game.
"For a stretch there," McGinley said, "when Strawberry stepped to the plate, waving the bat lefthanded, à la early (Gary) Sheffield, literally every time he stepped into the box, it looked like he was going to hit a home run. That stroke was just from God."
Asked to name his baseball hero, McGinley Blinked the late Yankee catcher, Thurman Munson, and after him, first baseman Don Mattingly.
"I want to love Bobby Murcer," McGinley said, citing one of his early fascinations, "but I couldn't feel it."
McGinley segued into talking about hanging out with former Yankee and current Mets manager Willie Randolph on the field a couple of times this year, and it became clear that for this actor, access to athletes is a perk much more important than having the biggest trailer.
"It's been the total biggest benefit, aside from being able to do stuff for Down Syndrome," McGinley said. (His son, Max, was born with Down's Syndrome, and McGinley is the spokesman for the National Down Syndrome Society's Buddy Walk program.) "You get the NBC tickets every once in a while, and they're not in the bleachers. They're pretty fantastic, to tell you the truth."
McGinley's brushes with athletic greatness aren't limited to baseball. While filming the football movie Any Given Sunday, director Oliver Stone had McGinley rehearse Hall of Fame linebacker Lawrence Taylor.
"It was a really ambitious (monologue) to give a non-trained actor to do," McGinley recalled. "I worked with LT on that, and the tradeoff was he would explain Cover 2s.
"And I found myself at the Orange Bowl with LT, whom I grew up worshipping, explaining Cover 2s. … And I'm thinking, 'I've got LT talking to me.' But after spending four weeks with him on that monologue - which he nailed - it was like, 'Of course, I'm talking to LT.' "
McGinley next talked about two of his neighbors: hockey star Chris Chelios ("God, I love him. He's having the renaissance year of his career.") and surfer Laird Hamilton, "who is probably one of the five best athletes on the planet." This led, inevitably, into another vitally unimportant digression.
"We were doing this the other day," McGinley said. "If you're doing the greatest (athletic) freaks of all time, the easy ones are (Michael) Jordan, (Babe) Ruth, because of the crossover with his pitching. I easily put Jim Brown on there because of his lacrosse crossover."
McGinley added Wayne Gretzky to his top five, but got tough when it came time to pin down the fifth.
"Fifth is tough - and don't freakin' say Muhammad Ali to me," McGinley warned. "What he did politically is unbelievable, but you can't put up a boxer - it's fixed. … (John) Cusack was arguing to me the other day about boxers, I'm like dude - it's not their fault, but you cannot have it."
"It's tricky with non-modern athletes," McGinley continued. "(Jim) Thorpe was an Olympian, the greatest player of his era. … People like to put Jesse Owens on there."
Unwilling to commit to evaluating athletes within their given era, McGinley returned to the more recent.
"A lot of people try to put Bo Jackson on there," McGinley said. "Bo Jackson, if he had stayed healthy, would be right up there with Jordan.
"Barry Bonds is clearly one of the greatest athletes in the history of the species. What he's done may in fact be unbelievable. I can't take everything away from him because of the (small) number of strikes seen in a game - and he tags it."
In the end, McGinley left the question of the top-five athletes unanswered - meaning he'll be picking it up again in no time.
Obviously, McGinley is not alone among actors in his sports infatuation. Cusack is deep into it, according to McGinley, though no one may be more hardcore than D.B Sweeney of Eight Men Out and The Cutting Edge.
"Sweeney is right up there," McGinley said. "And (Tom) Sizemore, before he got into all this trouble, he had close to a photographic memory. He was kind of like Bob Costas; he was unbelievable.
"D.B. is just, I don't know, he'll just go toe-to-toe with anybody on anything, just because he likes to argue. Plus he's just a Red Sox freak, even though he's from Long Island. He likes Yaz (Carl Yastrzemski) because Yaz's dad was a potato farmer from Long Island.
"Johnny is a pretty great Chicago sports freak, but it kinds of ends there. He kind of has blinders on. All he can talk about are the '85 Bears and Jordan - it's just a little stupid. For instance, he tried (on his list of top-five athletes) to put Scottie Pippen."
"I've had to hear from John how the Cubs now have the fastest outfield in baseball. No joke - a lot of speed. (And) no hitting."
McGinley also incorporated baseball into a self-improvement book project he completed for publication a year from now. Inspired by a Canadian cartoon character, the book is The Untalkative Bunny: How to Be Heard Without Saying a Word. The book focuses on the importance of non-verbal communication, and baseball comes into play in a chapter about perseverance, which McGinley defined as the rate at which you can return to effort from an unforeseen circumstance.
"In the Hall of Fame, .302 is the median batting average for offensive Hall of Famers. Even if they fail seven out of 10 times, they got back in the box as quickly as possible, it's the one thing Hall of Famers do. … What you can do nonverbally: you can return to effort. It's the one thing you can control, no one can take that away from you. You may not be able to control that the fax machine broke. You don't have control over that, but you do have your effort, and you can do something else."
Just as the Scrubs interview a couple of years ago leapt easily into baseball, the informality of this baseball talk couldn't help but find its way back to talking about the television show, especially with the season premiere finally arriving following its surprising early season benching. It was a hiatus that McGinley understood intellectually even as he struggled with impatience.
"Now that networks are allowed to produce and own their own content, the mandate at NBC is to create and own," McGinley said, citing The Office as an example. "Disney is the producer of Scrubs, so you're hosed.
"When you're the new head of NBC (Entertainment), Kevin Reilly, he's a super guy, but he needs a hit on his watch, but (we're) not that. We're on (former NBC Entertainment president) Jeff Zucker's watch. We come back, we do okay - Kevin doesn't get any credit for it. (My Name Is) Earl is doing well for him, but that's 20th Century. That doesn't really fulfill the mandate he was given. Will and Grace is a perfect example - NBC Productions for NBC, they make a killing on that."
"All I can tell you is it's good to be back on the air. Of the first 13 we did (this season) … I'd say 10 were A-pluses, and 3 were B-pluses. The writers came back from getting nominated for Emmys loaded for bear. … Wait 'til you see the first couple. We did a Wizard of Oz Scrubs that's so good. Zach (Braff), of course, plays Dorothy, and the other three play the Lion and the Scarecrow and the Tin Man. I, of course, am the Wizard."
From his excitement at talking about Scrubs, you are reminded that acting really is the stuff that comes first for McGinley. It's not a job; it's a passion - and he takes it seriously. You could say he gets his game face on.
"I love (reading about baseball) if I don't have a rant I have to get into my dome in the next 10 minutes," McGinley said. (In case you haven't seen Scrubs, McGinley's character has a mile-a-minute monologue or two in about every episode.) "But if Billy (Scrubs executive producer Bill Lawrence) has me going on a rant, then everything else stops."
Still, his love of baseball is there. Someday, everything else may stop long enough for McGinley to win an Oscar or Emmy. If that happens, most will look for McGinley to celebrate the craft, his colleagues, his son.
But as McGinley takes the statuette and goes to the podium to speak to the millions around the world via satellite, I'll also be looking for him to give me a few words about the latest Yankee score.