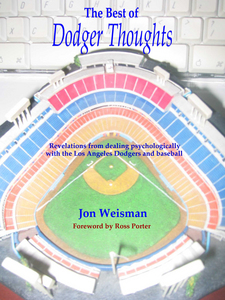 I'll say, when I made the order (compelled by the Lulu upselling system to order two copies, mind you), I rationalized it as support for the site, and basically figured that the book itself would be a little old-newsy. (And since I hardly have time to keep up on the site itself these days, I wasn't bursting with need to get more Dodger to read.) But now I realize I was seriously mistaken. It's wonderful having this collection of Jon's great pieces to flip back through. It's great reading in its own right, and also for folks who've dottered on the site for some time, has a very joyful familiarity. Sure, the stuff's there on archives, but it's just not the same as wandering through the book and running across an old friend that you probably wouldn't have even remembered was in there.
(To be clear, I think this would be a great gift for a baseball fan, a Dodger fan, or a writing fan, even if s/he hadn't spent time on the site.)
- Dodger Thoughts reader Sam DC
Depending what block you live on, you can still be the first on your block to buy The Best of Dodger Thoughts. The book was also recently given a nice plug by Tom Hoffarth of the Daily News:
A Web site that you can actually read during a bathroom break? Jon Weisman, who since 2002 has been churning out his "Dodger Thoughts" blog about the local baseball team, has produced a 325-page book version called "The Best of Dodger Thoughts," with a forward from former play-by-play man Ross Porter. The $25 manuscript, which serves as a history of the team during a very roller-coaster ride in the franchise's existence, can be purchased at - where else - www.dodgerthoughts.com.
Let me reiterate that the book is not a simple printout of the Dodger Thoughts archives. It offers added value and enjoyment - with chapters organized thematically, introductory insights, and a special section capturing some of the best reader comments. Sections include:
The 2002-2005 seasons

Dodger history

Key Dodger players

Dodger atmosphere: the stadium, the fans, the broadcasters

Coaching and managing

Ownership

The GM's Office

Baseball and writing

As Dodger Thoughts reader Molokai recently wrote:

For the price of

2 movie tickets and one large popcorn and drink
2 Dodger tickets in the pavilion and 2 hot dogs
1 loge ticket and one hot dog
1 field ticket
1/4 of a Laker ticket in the lower level
1/2 of a Clipper ticket in the lower level
one round of drinks for your friends

you can support the man who writes DT for free and gives you hours of pleasure and pain.

Preview the book by clicking here to open this PDF file, offering a snippet of the Vin Scully chapter.

Say buy buy to 2005 with a purchase of The Best of Dodger Thoughts. It's the perfect book for your bedside nightstand or milk crate. And sure to be a collectors' item, your baseball bookshelf isn't complete without it.

Support Dodger Thoughts and enjoy Dodger Thoughts.

Buy The Best of Dodger Thoughts today!