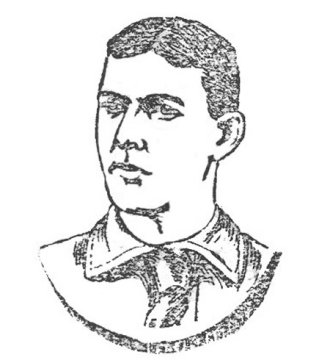 The man that Russell Martin is chasing for the all-time Dodger franchise record for steals by a catcher in a season was born during the Civil War. As it happens, the man might not really be deserving of the record he is credited with. But let's take a trip back in time regardless.
In 1884, 19-year-old Con Daily made his professional debut with the Union Association's Philadelphia Keystones (managed by Ireland native Fergy Malone, born in 1842). Daily played in two games, going 0 for 8.
The following season, Daily made his National League debut with the Providence Grays. Daily played in 60 games and batted .260 – good enough for an OPS+ of 96. Daily played 48 of his games behind the plate and, reflective of the times, had 37 passed balls.
So what about the stolen bases? Daily's 1885 stolen base totals aren't available at Baseball-Reference.com, so we don't have evidence of his first career steal until 1886, when he joined his third team, the Boston Beaneaters. For the first time in his career, Daily achieved a plurality of playing time behind the plate for his team – appearing in 50 of 117 games, batting .239 (85 OPS+) with two steals.
In 1887, Daily ended up playing behind 26-year-old Pop Tate in the midst of a humbling season, going 19 for 120 with nine walks (OPS+ 20). He did steal seven bases though.
For the 1888 season, Daily moved onto his fourth team, the Indianapolis Hoosiers (in their second year of existence). Daily had a bit of a rebound, batting .218 (OPS+ 62), and further established his baserunning ability, pilfering 15. Keep in mind the era, though – the Hoosiers stole 350 bases as a team, led by outfielder Emmett Seery with 80. (Until 1898, stolen bases could be credited to a player who took an extra base on a hit, though it's unclear how religiously this rule was applied.) In 1889, Daily backed up Dick Buckley for the second year in a row and batted .251 in 62 games (79 OPS+) with 14 steals.
The NL left Indianapolis after 1889, and Daily found himself playing for Brooklyn Ward's Wonders of the Players League in 1890, managed by John Montgomery Ward, a future Hall of Famer who started at shortstop and was only 4½ years older than Daily. The catcher, now 25, batted .250 (66 OPS+) in 46 games and stealing six bases.
Elsewhere in Brooklyn in 1890, the Bridegrooms, in their first year in the National League, won the pennant. In 1891, Ward took over the team as their manager/shortstop, with catchers Tom Kinslow and Daily among those joining him. From the Brooklyn Eagle:
President (Charles) Byrne, at the request of Captain Ward, has signed Con Daily, one of the catchers of last year's Brooklyn players league team. Daily was very popular with the patrons of Eastern park last season, and was looked on as one of Ward's best players. His record as a backstop was very good, his fielding average for forty-six games being 959. He is six feet in height and is said to be able to catch the hardest pitching, the greatest speed having no terrors for him. In addition, he uses considerable headwork in his playing. He is quite an all around player, a hard batter and a fine base runner. Mr. Byrne considers him quite an acquisition to the team.
Daily played in 60 games, one fewer than Kinslow, and enjoyed the finest season of his career – a stunning .320 average (121 OPS+), 65 points higher than any other he would have in his career. But sadly, in October 1891, Daily's brother Ed, an outfielder/pitcher for several teams since 1885 and the captain of the Washington Senators, died at the age of 29. According to the Washington Post (via BaseballLibrary.com), Ed died of "quick consumption."
On the heels of that tragedy, Daily, at age 27 and in his ninth year, became Brooklyn's primary catcher with a career-high 80 games (no, he didn't exactly rack up the innings like Martin does). And though his batting average dropped 86 points to .234 (86 OPS+), Daily stole 18 bases, which would be recognized as the franchise record 114 1/2 years later. Daily did play 13 games in the outfield that year, however – and it's unclear to me whether we can assume none of his steals came as an outfielder. Further, because of the pre-1898 stolen-base rule, we're essentially comparing apples to grapples.
In 1893, Daily stole another 13 bases (in 61 games), but something more momentous occurred – he finally hit his first major-league home run. The following season, his stolen base totals fell to eight, understandable in a year in which he hit a career-high 14 doubles and seven triples. (Perhaps Daily caught for another Con man that year, 20-year-old pitcher Con Lucid.)
It's at this point we finally get some small insight into Daily's personality. It appears Daily was a well-liked player; we learn this, ironically, from an Eagle article depicting a huge brawl he was at the center of in July 1894.
Those who pick on Con Daily as an easy mark in the future should go slow. ... Daily is a quiet and gentlemanly person off the diamond and on it, for that matter, until crossed. The most good natured person in the world will resent an attempt, whether accidental or otherwise, to deprive him of his livelihood. ...
President (Charles) Byrne takes a decided stand in the matter. To the EAGLE correspondent he said: "While Mr. Daily made a mistake, he was morally right and I shall uphold him for what he did. The Brooklyn club pays him a salary to protect the home plate and prevent the other side from making runs. We do not pay him to stand aside and allow the other fellows to march past him."
Daily was interviewed on the subject and said: "I know I made a mistake, but I could not help what I did under the circumstances. ... He jumped on me and knocked me down when there was no excuse for it and I hit him." ...
Toward the end of the 1895 season, in which he batted .211 (47 OPS+) with three steals, Daily's Brooklyn tenure came to a sudden and near-tragic end. On September 24, 1895, the following item appeared in the Eagle:
Con Daily, the Brooklyn club's star catcher, narrowly escaped death at Sheepshead Bay on Sunday. As it is, he is confined to his bed suffering from concussion of the spine and will not play again this season. Daily is ex-ceedingly fond of salt water bathing, and with Captain Mike Griffin was enjoying his favorite pastime Sunday afternoon. They were lolling about on the beach, not noticing the ebbing tide, when Con got up and dove head-first in about three feet of water. When he arose he shouted to Griffin, "Mike, I'm gone" and fell back. He was carried to the hotel and a doctor called. The physician suggested paralysis of the spine, but Dr. McLean of the Brooklyn club, who visited the injured player to-day, declared it to be concussion of the spine. He added that Daily will be laid up for two weeks. Only a few Sundays ago Daily saved a girl from drowning near the same place. (John) Grim will do all of the catching for the team.
Clearly, Daily had been beloved in Brooklyn beyond his offensive worth, but he was forced to move on. He tried to stick in the game playing under Cap Anson in Chicago in 1896, but while the 44-year-old Anson batted .331, Daily went 2 for 27 with one walk and one last stolen base.
For his career, Daily played in 630 games (catching in 550 of them) and had 2,222 at-bats, 541 hits, two home runs, a .243 batting average, .314 on-base percentage, .299 slugging percentage, 208 walks and 208 strikeouts, and 94 steals. And 262 passed balls. He lived to the age of 63, passing away on June 14, 1928, in Brooklyn.
Given the qualifiers that come with Daily's stolen-base totals as a catcher, I'm not sure Martin (who already has 16 steals this year) really should have to worry about Daily when it comes to the franchise mark for steals by a catcher in a single season. But there's Daily's story in any case, best as I can tell it.
Image credit: TheDeadballEra.com. Thanks to Bob Timmermann for his assistance with research.
* * *
Tonight's game: