We can still purchase a few more tickets for the group going to Dodger Thoughts day at Dodger Stadium on July 21. If you want to go, send me $24.50 via the Paypal link on the sidebar by Sunday night.
* * *
Juan Pierre scores surprisingly high on the defensive statistics published by The Hardball Times. Pierre is the No. 7 center fielder in THT's Zone Rating, which it obtains from Baseball Info Solutions. According to the numbers, Pierre has converted 144 of 158 balls in his zone into outs, while also grabbing 36 balls out of (his) zone, or OOZ. And that's good.
Surprised by this, I asked THT's Dave Studeman about how the numbers conflicted with how bad Pierre looks to my naked eye. Essentially, the statistical evidence is that too much has been made of Pierre's balltracking shortcomings.
Maybe Pierre was benefiting in the stats because left fielder Luis Gonzalez has little range himself?
"Pierre did well last year, too, in Wrigley," Studeman said. "I don't know how to explain it - he looks average to me, at best - but it wouldn't be because of the other fielders around him. He does well in straight zone rating, as well as in plays out of zone."
Andre Ethier also scores high in the rankings, coming in as the No. 3 right fielder. Rafael Furcal is the No. 7 shortstop. Jeff Kent, who was the worst fielding second baseman in baseball by another statistical format, falls in the middle of the pack at second base by this reckoning.
Nomar Garciaparra, now moving to third base (where Wilson Betemit scores poorly), was near the bottom at first base, as is Gonzalez in left field.
Update: THT says The Dodgers have a league average defense as of today: below average in the infield, above average in the outfield. (Note: none of this takes into account outfield throwing arms.)
* * *
Regarding Rafael Furcal's ongoing ankle troubles, Will Carroll of Baseball Prospectus writes: "Furcal's ankle was "just" a sprain, (but) let's remember what a sprain is — it's a tearing of ligaments inside the ankle, which is a complex, weight-bearing joint. The LA Times is reporting that Furcal's left ankle is giving him problems going up the middle and batting right-handed. This is the opposite of what you might expect, and tells us that the problem is not with starting, but with stop-ping or increased weight-bearing. The longer-term concern and one that might already be in play is some arthritic changes in the ankle, a common side effect of chronic ankle problems such as the one Furcal is dealing with. That's bad for a speed player, though worse for a power guy, so Furcal is dealing with a bit of a double whammy. His PECOTA comps include a lot of guys who had precipitous drops after injuries, so that shorter contract might end up being one of Ned Colletti's smarter moves."
* * *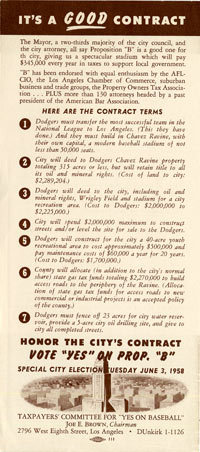 At Walteromalley.com, there's a new section offering a "Timeline of Baseball's Historic Expansion to the West Coast" with more than 100 entries and historic documents. Some fascinating primary source material is there, such as this 1958 flyer calling for support of Proposition B, which ratified the city's contract with the Dodgers. (First term of the contract: "Dodgers must transfer the most successful team in the National League to Los Angeles.)
Meanwhile, a new website, Dodgers-Giants.com, aims to catalogue the history of the rivalry between the two teams. Meanwhile, don't forget to stop by Baseball Nooz, which attempts to track baseball writing from mainstream news sites as well as blogs.
Finally, Dodger team historian Mark Langill has a new book out: Game of My Life: Memorable Stories of Dodgers Baseball, in which people from Carl Erskine and Willie Davis to Vin Scully and Nancy Bea Hefley recall their favorite Dodger memories.
* * *
Almost forgot: Dodger Thoughts reader Brent Daniel passed along a June 7 Baseball Prospectus article that I missed. The article used the pitch analysis system in place in several ballparks to evaluate batter selectivity at the plate.
Notes Daniel:
Both (Andy) LaRoche and Betemit are top of the list (#2 and #3) of players in the sample who did not swing at pitches outside of the strike zone.
Gonzalez and Juan Pierre are in the top five of players who hit balls outside of the strike zone.
Nomar is sixth on the list of players who most frequently swing at pitches in the strike zone (excluding 3-0 counts).