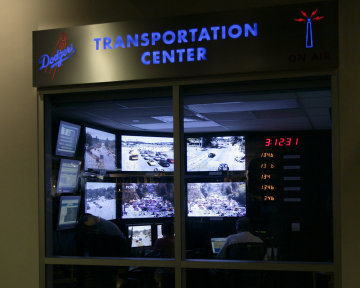 Traffic at the bottom of the hour ... or the bottom of the ninth.
It's a little unclear to me how much impact this will have, but this shiny new addition to the Club Level of Dodger Stadium will help fans get better traffic information as they drive to and from the ballpark.
The transportation hub monitors all 255 acres of the Dodger Stadium parking lots, relaying information not only to KFWB's traffic reporters but Dodgers Radio 1610 AM, a newly dedicated station (devoted to traffic, I assume, not Vinny). Yes, the Big Dodger in the Sky is watching you.
"In addition, more than 40 Department of Transportation engineers and traffic officers are plugged into the Transportation Center providing traffic and parking updates from outside the Stadium," the Dodgers' press release said. "The hub also uses multiple resources to monitor all traffic throughout the greater Los Angeles area."
* * *
Photos from last year's Dodger Thoughts Night at the ballpark here and here.
* * *
Tonight's game: