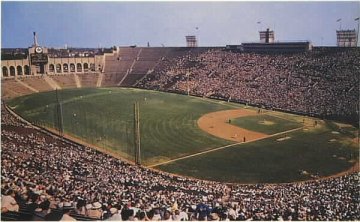 There have been a number of little Dodger newsbits over the past 24 hours, but buried near the bottom of an article by Barry M. Bloom for MLB.com was this rather surprising morsel:
Several games in the annual preseason Freeway Series against the Angels may be staged at the Los Angeles Memorial Coliseum.
Putting aside the erroneous implication that the Freeway Series is some sort of several-game affair when it has traditionally been no more than three games – and could even be reduced to one in 2008, as Tony Jackson of the Daily News reports – the idea of staging games at the Coliseum for the first time in 47 years forced me into a double-take.
I e-mailed the Dodgers this morning to see where this notion came from, and senior vice president of communications Camile Johnston replied.
"The stories about this are premature," Johnston said. "It is something being considered as part of the 50th anniversary celebration, but nothing is close to being finalized."
I have to say, I'll be following this story eagerly. It would be quite a treat to see first-hand the odd arrangement of baseball shoehorned into the city's football stadium, recapturing the Dodgers' first moments in Los Angeles.
* * *
In other news, the Dodgers announced De Jon Watson has been promoted from director of player development to assistant general manager - player development. The promotion gives Watson input on transactions - which probably can't hurt, because according to Dave Studeman of The Hardball Times, no team in baseball in 2007 got less value from players signed to free agent contracts (including those signed before the 2006-07 offseason) than the Dodgers.
In addition, the team has made a few changes in the medical staff. Among them: Todd Tomczyk, who came to the team last season, was promoted to assistant athletic trainer. The Dodgers have hired Sue Falsone as a physical therapist - the first female PT in major-league history. Also, Brendon Huttman will be the Dodgers' strength coach, coming over from Cleveland.
Director of medical services and head trainer Stan Conte told Dylan Hernandez of the Times that the team needs to be "more proactive and be on the more preventative side." Of course, we knew this when Conte was hired, so this seems to be an admission that they needed to show better progress.
Hernandez has other health notes, including an update on Jason Schmidt.
(Schmidt) hasn't started throwing a baseball, but Conte said he is 'incredibly pleased' with his recovery. Schmidt will visit Dr. Neal ElAttrache in Los Angeles in the middle of next month and could start throwing soon after.
I continue to believe that Schmidt will be in the starting rotation in April, but not at the level of performance he had with San Francisco.
(Image source: Ballparkwatch.com)