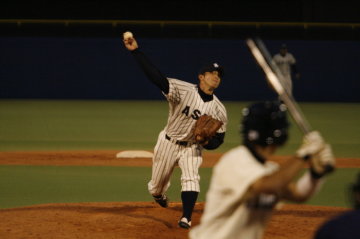 The Dodgers today signed young American-Japanese right-handed pitcher Robert Boothe to a minor league contract.
"We feel Robert has a good chance to become an effective Major League pitcher," said Dodger General Manager Ned Colletti. "Our scouting department has followed Robert for a couple of years and his signing reaffirms our commitment to reaching out worldwide to find players. It is difficult to sign amateur players out of Japan and we are excited at this signing's historical significance."
Boothe, 21, attended Asia University and was sought after by as many as five teams in the recent Japanese Professional Baseball draft. He was a member of the All-Japan College All-Star Team that played in Holland this summer.
The six-foot, two-inch pitcher was born to an American father and a Japanese mother and has siblings that reside in the United States. He was scouted and signed by Japanese Dodger scout Keiichi Kojima.
"Robert is a quality athlete with a nice delivery, good arm action and a sound mix of breaking pitches which gives him a chance to become a future Major Leaguer," said Assistant General Manager of Scouting, Logan White. "I'm proud of the job Acey Kohrogi and Keiichi Kojima have done in making this a reality." ...