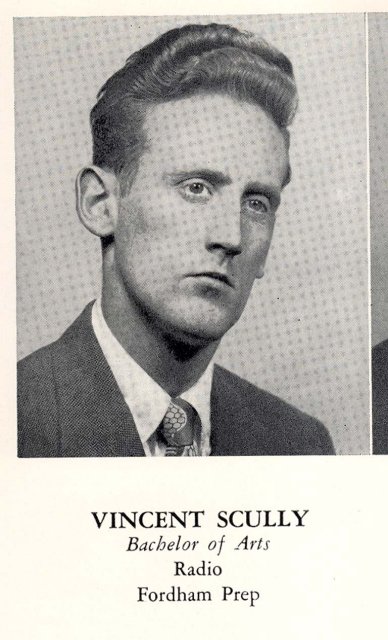 I was saving this image for a special occasion, but when I read that Vin Scully's Fordham alma mater was going to honor him tonight, it seemed like the right time to run it. Earlier this year, I had contacted the Fordham sports information department to see if there was anything fun they could find in their archives about Vinny, and they were kind enough to send me his yearbook photo.
Fordham's radio station, WFUV 90.7 FM, is celebrating its 60th anniversary this evening in New York.
"I'm deeply grateful for these honors and consider myself extremely fortunate," Scully said in the press release. "I was at Fordham when they started their FM radio station 60 years ago so I consider it a real privilege to have been there at the beginning."
Fordham previously honored Scully in 2000 with an honorary doctorate (and a special Fordham uniform, below).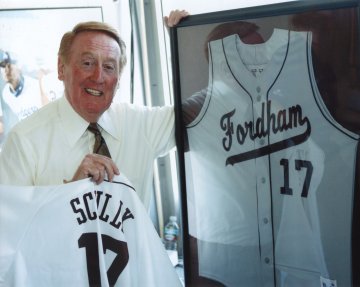 Update: The Baseball Hall of Fame will unveil a new Jackie Robinson plaque Saturday that updates his legacy.
"When he earned election to the Hall of Fame in 1962, Jackie Robinson totaled a career worthy of inclusion based on performance alone," said Jeff Idelson, president of the National Baseball Hall of Fame and Museum. "Now, 46 years later, his impact is not fully defined without mention of his extreme courage in breaking baseball's color barrier. The time is right to recognize his contribution to history, not only as a Hall of Fame player, but also as a civil rights pioneer."