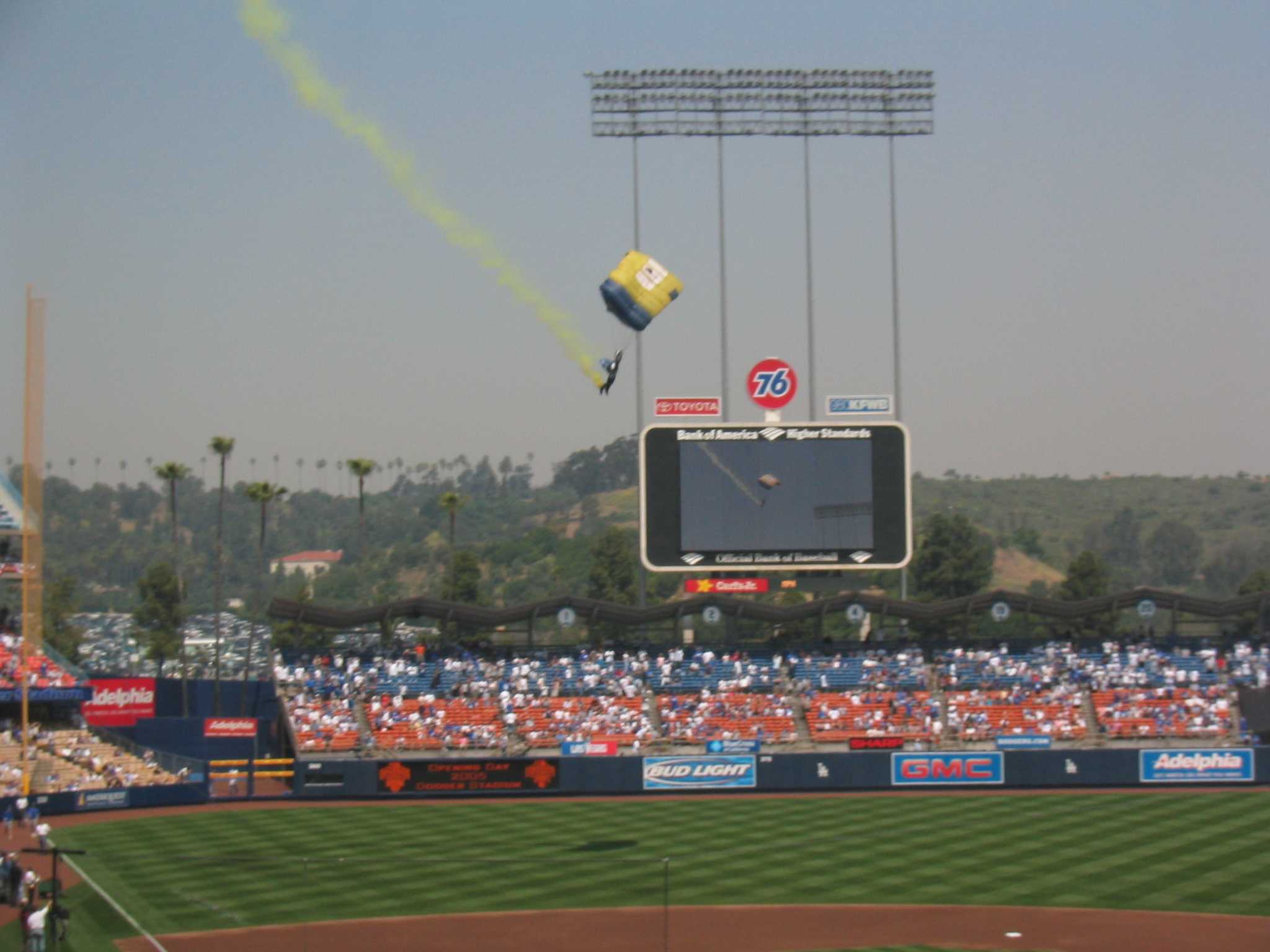 Round about 5:30 p.m., I walked in the door and replayed the final at-bat of the game. And my little girl caught a glimpse, and shouted "Dodgers!" and "Baseball game!" and asked to go outside to play catch.
So I think I'm locked into the elation that Milton Bradley and the Dodgers felt today. Dogpile on Jonny - it's five hours later and I'm still beaming.
And Dodger fans, they know what it's like to be Tiger Woods' golf ball on the 16th. Together, the assembled stood along the fringes of the grass, victory an impossibility although not quite, a long, curving path taking us right to the precipice, breath baited, before dropping us home.
Never thought the Dodgers were out of this one. Thought the Dodgers might lose, with Jeff Weaver dishing singles like a dealer at five-card draw, but never thought they were out. Against Jason Schmidt or Jake Peavy, perhaps. Not against the staff the Giants threw out there today.
Perhaps more impressive, through the hundreds of comments posted this afternoon, it appears few of you thought the Dodgers were out of it either. Ill turns in the game were greeted with disappointment at worst and sardonic good humor quite often. It's as if a realization has spread: those Dodgers, they're so incorrigible, but doggone it if they don't find a way out of their messes. Like a team with Dennis the Menace at short and Beaver Cleaver at second. Sitcom baseball - we'll have some fun, maybe catch a talkin'-to, but everyone's happy at the end.
This being Opening Day, the field was adorned with balloons, not the least of which was the thought balloon many brought from the offseason that said that the Giants are the sound, mature and cohesive leaders of the West and the Dodgers are a bumbling, misanthropic, inchoate mess. Those balloons are now punctured and spinning in curly-cue formation around the parachutists and doves and stealth bombers flying through the air. We yet don't know which team will win the National League West - if either of them - but those who thought the writing was on the wall before the season began got this as a response: "Tear down that wall!"
* * *
There was good and bad in the changes to Dodger Stadium, or at least stuff I could live with and stuff that I would rather not. The new seats change the feel of the stadium - it's like building an add-on to your house which is totally functional, totally works, but makes the yard feels a little smaller. Because it is. To me, the distance between the bases, which I assume remains 90 feet, had the optical illusion of appearing greater than in previous years because the adjacent territory between the bases and the dugout had shrunk. But it's all well and good. The ribbon scoreboard, even if it is mostly dedicated to advertising, is fine as well (as long as it's not blocking the view of people sitting below it.)
The problem with the outfield wall isn't just that advertisements have replaced the annual homages to Dodger greats (which themselves were a relatively new tradition), but that the advertisements were slapped on without any kind of panache. The wall is completely unapologetic - not that I mean that the Dodgers should apologize for pursuing ad revenue. But the wall is not even trying to make the advertising palatable. I don't want to trade Ricky Ledee for an outfield wall free of ads - not after his ninth-inning double - but I would like to see some finesse, some imagination, some class. Dodger Stadium was a stroke of genius and beauty that earned its owners lots of money. The concepts are compatible. But no one appears to have tried to reconcile them on the outfield wall today. Further, the yellow stripes (across the bullpen gates) advertising a shipping company that isn't Federal Express are a blight in themselves. I'm not going to moralize about these ads - they are just ugly, and I'm not convinced they have to be.
One could go on and on. Credit-card usage at the food stands is a big plus, and my hot dog was wonderfully charred. If Nancy Bea had more of a presence today, I didn't really notice. That's because the sound system remains antiquated: If you put your speakers in two different locations even when you live in a one-room apartment, someone tell me why it makes sense to have speakers in one location in a 56,000-seat stadium.
It's still a great stadium. It feels a little more modern, a little more cluttered, but it remains a great place to be.
* * *
Barry Bonds liked it. Craving as many boos as he could get, he thrust his arms in the air when the public address announcer introduced him before the game, his split personality happening to alight on the seven pin today instead of the 10. The only other player fans really booed at all during the introductions was poor Hee Seop Choi, who caught a smattering and then was stuck with it, on camera, while the announcer seemed to lose his place.
In general, Dodgers other than Choi received three kinds of receptions during the introductions. These might best be explained by imagining you had gone to a play at your child's elementary school - the difference between clapping for your kid, clapping for your friend's kid, and clapping for someone's kid just because he goes to the school and you're being nice. In Opening Day-ese, this translates to 1) outright adulation, reserved for award-winners like Eric Gagne, 2) polite applause, which went to players who were anonymous to most in the crowd but at least wore the right uniform, and 3) a warm welcome for those who weren't All-Stars but had done the uniform proud. Jayson Werth was among those in this group, illustrating once again how quickly the fans can bond with the players even within the first year. Jose Lima, thank you again - but by May, no one's going to be missing you. It's nothing personal - people just like to bond with who's in front of them.
I think I'm starting to develop some commandments.
1) Spring Training doesn't matter.
2) Winning breeds chemistry, not the other way around.
3) No matter how little time you've been with the team, if you help us win, you're one of us.
* * *
Did I stay to the end of the game? Well, we had to pick my daughter up from the sitter by 4:30 p.m. So, no. I didn't leave because I wasn't enjoying myself, or because I didn't want to stay, or because I had lost faith. I left because I'm a father to a daughter. You want to knock us for it - we'd be happy to have you babysit. Really. You think I'm kidding, but I'm tempted to tell you what time to put the kids to bed... Anyway, old readers of Dodger Thoughts know that I'm not as militant about leaving early as so many are. I respect your dedication and envy your ability to prevent the outside world from intruding. But it wasn't in the cards today.
That being said, we would have stayed until the end if not for something truly unfortunate and brainless the Dodgers in 2004 began doing periodically in their parking lots.
For those of you who aren't familiar with the drive inside Dodger Stadium, the main components are an inner ring going one direction around the ballpark and an outer ring going the opposite, with occasional links between the two. One of those links emerges from Lot 6, where we park. For years and years, we could stay until the end of the game, fast-walk to our cars, cross from the inner ring to the outer and, by knowing which lane to be in, be down to the freeway entrance in almost nothing flat.
But in 2004, the Dodgers began closing off that link. What this succeeds in doing is preventing our car - and many cars like us - from achieving a quick exit. Consquently, this forces our car - and many cars like us - to stay in the inner ring longer, thereby adding to the already saturated postgame traffic. You might as well close off the San Diego Freeway and force people to go from Northridge to Westwood via the Hollywood Freeway. Forget about explaining the speaker system - how on earth can traffic flow improve when you close off routes? It's not as if keeping us from going to the outer ring eliminates congestion - it only funnels that congestion into an area, the Elysian Park Avenue exit, that already has more than it can handle.
Generally, I try to be humble, but it's safe to say that over the years I have taken Dodger Stadium traffic navigation to such an art form, it should be the first line of my resume. But the parking people have torn up my canvas. I hope to paint again, but today was not the day, not with the babysitter on the clock.
* * *
So the Dodgers are 5-2, with three four-run final innings in seven games. In their past two ninth innings at Dodger Stadium, the Giants have gotten three outs and allowed 11 runs. Elation.
On Opening Day six years ago, in a game started by Randy Johnson, Raul Mondesi hit home runs to tie the game in the ninth and win it in the 11th - and I don't know if today's game tops that game or not. But I'm fairly certain that there has never been an Opening Week - games 1 through 7 - to match this one. It feels so good, I just want to wake my daughter up and go have another catch with the whiffle ball.
On the other hand, you gotta sleep while you can. Brand new game tomorrow. Last while it's fun.