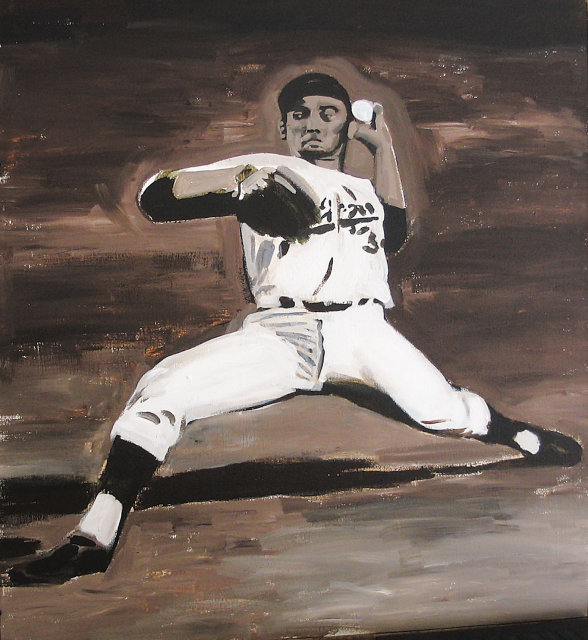 After seeing my October posting of the late R.B. Kitaj's
painting of Sandy Koufax
, Los Angeles-based art director Robert Landry sent me a copy of his own rendering of the great Dodger lefty, who turns 72 on Sunday.
"The painting is from a group of paintings of old ballplayers that I did way back in '01 or so," Landry writes in an e-mail. "Sandy was always one of my favorite players.
"I lived overseas when I was young - my dad was with an oilfield fabrication company - and can remember as a kid reading with awe in the International Herald Tribune about the finish of the '66 NL race and how instrumental Sandy was in winning the pennant. Me and my buddies were also completely bowled over when the Orioles swept them. I felt pretty bad for Dodgers fans. By then I was well on my way to being a complete Cardinal nut - another story entirely - but I've always kind of liked the Dodgers because of their long history as an underdog. Also, I guess you could say there is a connection. I was born in July 1955, in New Orleans, but in 1954 my mom and dad lived in Brooklyn. You do the math!
"Now that I am living in L.A., I have to say I've been following the Dodgers pretty closely, and though my first allegiance will always be to my beloved el birdos, I do root for the boys in blue, and I love going to Dodger Stadium."